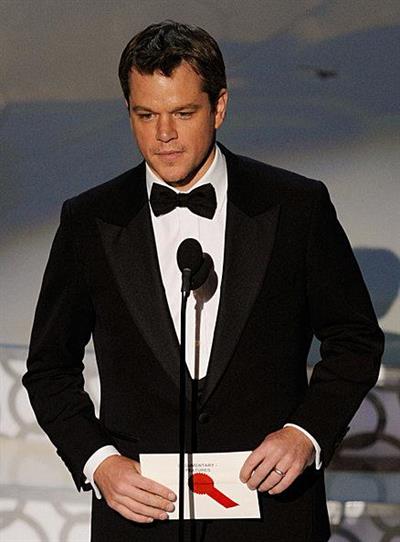 Matt Damon may have missed out on an Oscar earlier this year, but he didn't leave empty handed from the 2016 Empire Film Awards where Damon received the Empire Award for Best Actor in recognition for his expertly executed performance as a stranded astronaut in The Martian. The Empire Award wasn't Damon's first accolade for his science fiction role.  Damon also won a Golden Globe for his portrayal as a gifted astronaut.
Matt beamed with pride as he accepted his award and was cheered with exuberant applause when he went onstage to get recognition of his achievement at the London's Grosvenor House Hotel on Sunday night.
The premise of his role in the Ridley Scott directed film was to portray a brilliant astronaut left behind on Mars by his team and challenged to survive alone on the planet.  "Ridley and I talked through everything about those long one-hander sections – but yeah, it was a little nervy", Matt told the Rolling Stone Magazine. "'It's all on you. You can't blame the other actors when a scene goes wrong and say, 'Hey, this isn't working, talk to my co-star.' Although I guess you could blame the writer. Drew, if you're reading this…"
The actor said that despite not being 'science fluent' he did pick up a few ideas from his agriculturally gifted character.  Matt claimed: "I can indeed 'science the shit out of some potatoes' now, yeah. All those crops were stuff I grew and replanted on the set in Budapest. And I didn't even need to be stranded on Mars to do it!"
Other awardees on the Empire Film Awards included Peter Serafinowicz, who won the Best Comedy film for Spy.