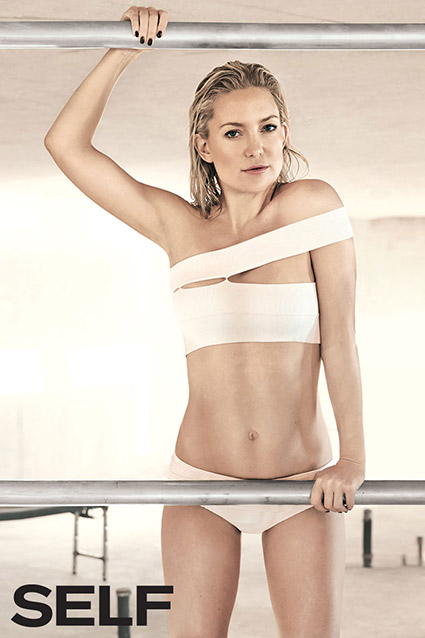 Would you believe that Kate Hudson is already 36 years old? I bet not. With a perfect body like hers, it is no wonder she leaves a trail of broken hearts wherever she goes.
For anyone wanting to learn Kate's top secrets to a healthy life and getting in shape, you can check out all the details in the March issue of Self Magazine.  Kate did share that while she changes up just about everything in her routine or look so she doesn't get bored, her favorite is Pilates.  She also doesn't eat much meat.  Instead she focuses on an unprocessed, plant based diet.
Her other activities include transcendental meditation, yoga and dancing.  She says, "Sometimes I'll lock myself in a room and dance. I'll turn music on as loud as possible and just get weird."
One of Kate's inspirations for working out, has to do with fashion.  The blonde babe just launched her own line of athletic clothing line, which she claims helps inspire her to be fit because she just loves wearing everything.
Staying fit is easier when you are always on the run.  Kate says that in addition to workouts with Tracy Anderson, the 36-year-old actress is typically always on the move.  Between traveling, getting pampered, running, taking a spin class, she always tries to fit in some form of exercise, even if she has to get up very early in the morning to make it happen or only has 5 minutes.
When you look like Kate Hudson, you are never short on male companionship.  Kate was most recently linked to boy band singer, Nick Jonas, who happens to be 23 years her junior.  Even though, Nick refuses to admit how intimate he and Kate have been, he did say, "Out of my best effort to respect her and her privacy, I'm not going to say if we had sex or not. But we did have a beautiful connection. Even now, I have so much admiration and respect. She's amazing."
While Nick may think Kate is amazing, the latest scoops indicate that he may be swapping Kate for a younger model, Lily Collins.  He and Lily are allegedly on Holiday together right now exploring the  possibility of a relationship.